I love Mondays because when Savannah settles down for her afternoon nap, I turn on the TV and watch the latest DVR'd episode of Upstairs Downstairs. Suddenly I am whisked away from my sweatpants and sofa and into a world of British accents, glamorous costumes, and lush interiors, not to mention scandalous affairs and political intrigues. Somehow the BBC always manages to make melodrama feel so sophisticated. Let's take a looksie:
The Cast
English aristocrats with time on their hands indulging in affairs and intrigue at the beginning of WWII.
The Costumes
Coats, hats, gloves, scarves, furs, jewels, evening gowns, tuxedos. I die.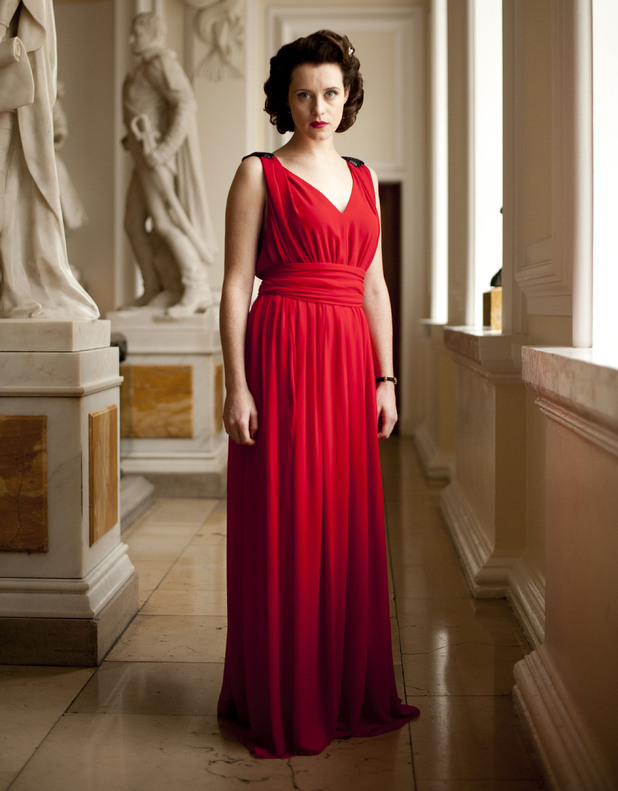 The Interiors
Production designer Eve Stewart, who was nominated for an Academy Award for her design work on The King's Speech, directed the interiors for 165 Eaton Place.
The Entry Hall
That floor, those stairs, that chandelier, the turquoise color on the walls all equal a swoon worthy entrance.
The intricate pattern of the molding on the wall and how it frames the artwork is pure genius.
Dark, intricately carved paneling paired with luxe floral wallpaper and an exotic tusk evokes a worldly sophistication.
Satin, silk, florals, ribbons fit for a Material Girl.
A rustic English kitchen with classic white subway tiles, hanging copper pots, and lots of wood tables and chairs with patina. My idea of comfy and cozy.